About us: Maria Cook LMT, LAc, EAMP (206) 842-7706 graduated from a 4 year program in 5 Element Acupuncture at Wu Hsing Tao School in Seattle. She is licensed by the state of WA and nationally certified by the National Council of Acupuncture and Oriental Medicine (NCCAOM) as a Diplomate in Acupuncture. She has a private practice on Bainbridge Island.
Ongoing study of acupuncture, 5 Element and Kiiko Matsumoto Japanese style, has been a passion, and her work has been informed by leading practitioners of the medicine.  She regularly renews her knowledge and techniques with workshops, lectures, intensives, conferences, list serves and ongoing study.  While an accomplished and seasoned practitioner, her limitless quest to learn, combined with the huge potential of this kind of medicine, have led her all over the country and around the world as well. Her teachers include: Thea Elijah, Dirk Hein, Keiko Matsumoto, Cindy Miclieu, Jeremy Ross, Andrew Ellis, and Kathy Abascol, among others.
Maria completed a two year program in Chinese Herbal Medicine with the Jade Institute in Seattle.  She has continued her herbal studies through the Jade Institute and completed advanced study in alternative approaches to fertility.  She studied advanced techniques in acupuncture and Chinese herbs in Taiwan.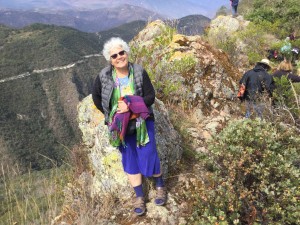 She has been a licensed massage therapist since 1990 and has studied many healing modalities including educational kinesiology, Bach Flower Remedies, energy medicine, yoga, Thai yoga massage, deep tissue therapy, soft tissue release, reiki, and nutrition.
She has completed advanced training in Compassionate Listening and studied Nonviolent Communication.  A meditation practice and self awareness techniques are part of her routine, and she is an informed guide for lifestyle choices.
Maria is committed to helping people feel better, both physically and emotionally.  Her passion is to support people on their spiritual path and she uses her knowledge of the body and its energetic pathways to assist on a deep and powerful level.  She works with people of all ages and all stages of health.  She is particularly drawn to 5 Element Acupuncture for its remarkable ability to heal both the body and the mind.
She combines her knowledge and gifts in her offering of Journeys for Deep Healing.  These trips are potent and powerful and are open to the public. Women's Transformational Kayak Journeys and Oaxaca: The Magic and the Medicine have been very successful.  Read more here.
In addition to her career in the healing arts, Maria holds a Captain's license for sailing boats up to 100 tons from the US Coast Guard.  She ran her own charter business for several years in the Caribbean and has sailed all over the east coast and down to the islands.  She has taught seamanship for Outward Bound and volunteered on an educational schooner here in Puget Sound.  She is an avid kayaker and loves to explore out of the way places in the NW.  She has paddled and camped throughout British Columbia.
 She has had a yoga practice for most of her life- except for when she was living on boats!  She has volunteered for Acupuncturists Without Borders, and also for her cooperatively owned community, effectively helping with real estate, legal and financial matters- she was recently instrumental in securing a $4.3 million refinancing. Partner dancing is another passion and if she is not in the office or does not return your call promptly, she just might be out waltzing with bears.